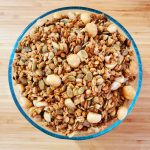 Print Recipe
Fermented Sourdough Granola
A delicious bowl of crunchy, chewy, and slightly sour granola!
Equipment
2 baking sheet pans with parchment paper or silpat.
Ingredients
3

cups

oats

GF rolled oats

1

cup

sourdough starter

3/4

cups

coconut oil

divided 1/2 cup and 1/4 cup

3/4

cups

raw honey

divided 1/2 cup and 1/4 cup (or maple syrup)

1 1/2

cups

sprouted seeds

pumpkin, sunflower and watermelon seeds

1 ½

cups

macadamia nuts

1

TB

molasses

1

TB

cinnamon

2

tsp.

vanilla extract

2

tsp.

sea salt
Instructions
Combine rolled oats, sourdough starter, 1/2 cup coconut oil, and 1/2 cup honey in a bowl.

Stir and blend all ingredients well.

Press the mixture down into the bowl.

Cover bowl with a towel and place in a warm spot.

Allow mixture to ferment for up to 24 hours. *See note

Preheat oven to 200F degrees.

Line 2 baking sheets with parchment paper or silpat.

When the oats are done fermenting, break up the oat mixture with a large fork.

Add the seeds, nuts, molasses, cinnamon, vanilla, sea salt, plus 1/4 cup of both coconut oil and honey.

Mix all ingredients well to combine everything.

Divide the granola dough between 2 baking pans and spread the mixture as thinly as possible.

Place granola in the oven for 2+ hours.

Keep an eye on it and rotate the pans half-way through.

Remove pans from oven and break up the granola with a spoon.

It will be soft so break up large clumps and spread it back out to continue baking evenly.

*When it's done, turn the oven off and leave the granola in the oven to continue drying out if you want.

When done, remove pans from the oven and check the consistency of the granola.

If it is dry and crisp, it is done cooking. If not, continue baking until done.

Allow it to cool completely on the pans.

Place cooled granola in a glass container for storage.
Notes
Any nuts or seeds can be used in the recipe. If you choose a shorter fermentation period, it will produce a less tangy taste, while a 24-hour fermentation will create a more noticeable sourdough flavor. I opted to go all out on the first attempt and why not? Go big or go SOUR! When the granola was done, I kept it in the warm oven overnight to dry out even more. It was perfect and warm in the morning. What a treat! While the low heat method might be necessary for this granola, next time I will try 300F for 1 hour and see what happens.
Nutrition
Calories:
339
kcal
|
Carbohydrates:
30
g
|
Protein:
5
g
|
Fat:
24
g
|
Saturated Fat:
9
g
|
Sodium:
242
mg
|
Potassium:
176
mg
|
Fiber:
3
g
|
Sugar:
11
g
|
Vitamin C:
1
mg
|
Calcium:
30
mg
|
Iron:
2
mg